Keep productivity and performance running with flexible space planning and workspaces. With everyone and everything moving faster across your facilities, building and office owners can now manage space more efficiently and flexibly with EnergetixTM Occupancy. Empower employees with the flexibility over their workspaces instead of confining them to fixed cubicles for greater productivity and mobility.
Greater flexibility and choices
Give employees a choice over their workspaces. EnergetixTM Occupancy's desk and area occupancy features enable employees to choose their preferred desks and check if an area is occupied. Help them find free meeting pods or an available co-work desk, work point or huddle area easily without missing their momentum.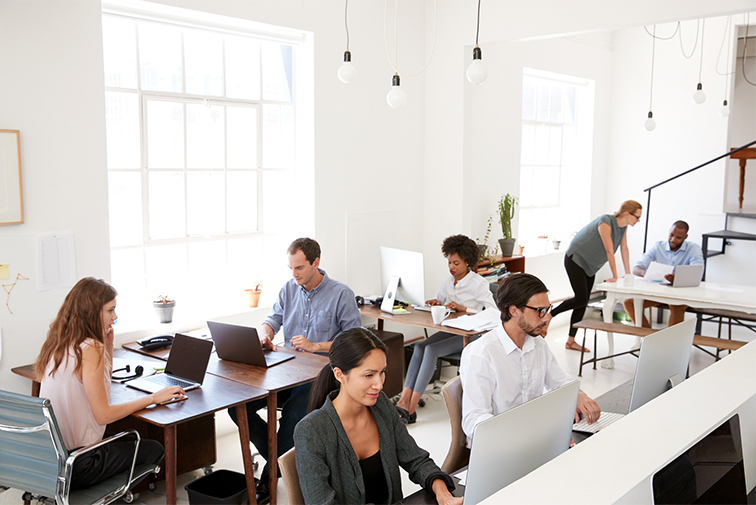 Maximise workspace and predict usage patterns
Optimise the use of underutilised space by determining how many people are occupying an area, zone or floor based on smart sensors at multiple entry and exit points. Using occupancy usage patterns and data, transform the traditional office into a flexible workspace with open layouts and shared co-working areas. Easily compare locations and optimise space planning to reduce capital expenditures across your property portfolio.
Optimise energy efficiency
Leverage occupancy schedules and advanced analytics in the calibration of lighting and heating, ventilation, and air conditioning (HVAC) services. EnergetixTM Occupancy studies occupancy data with its machine learning capabilities and drives energy consumption down to desirable values while ensuring occupant comfort.
Area Counting
Number of entries, exits and people based on people crossing a defined virtual line
Zone Counting
Counts number of people in a predetermined zone
Area Occupancy
Size of the area can be varied and configured for large or small areas.

Desk Occupancy
Real-time checking of desk occupancy for meeting rooms or co-working spaces
High Accuracy Desk Occupancy
Additional intelligence to detect objects left on the table such as laptops – indicating space occupied
Security
Detects theft or unauthorized removal of such objects from a specifically defined location
Service
Detects occupancy for intelligent operation of lighting and ACMV services
Multi Mode
Detects a combination of all the modes and concurrently provide suitable outputs